Feeling on top of the world!
11-May-2018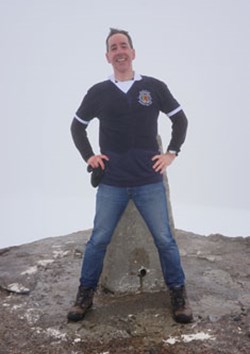 It's great to see our 40th Anniversary is inspiring some of our staff to complete a personal challenge. Michael Lewis, who manages Key's services in Falkirk, Stirling and Clacks, decided to tackle Britain's highest mountain, Ben Nevis, to raise some funds for the brilliant community development work that TAG do to increase opportunities for disabled people to make the most of what their communities have to offer.
Michael has been in training for a couple months now and already had The Cobbler and Ben Lomond, among other peaks, under his belt before setting of to claim Ben Nevis last weekend. And we are delighted to report that he was successful in scaling Ben Nevis' heady height of 1,345 metres or 4,411 feet! As you can see from the photo he took a little bit of 1978 with him by wearing the Scotland Football Team's top from their Argentina World Cup campaign of that year.
He was also joined in his endeavours by 3 of his friends and we want to say a huge "Well Done!" to them all on their fantastic achievement!