Celebrating Volunteers' Week
07-Jun-2018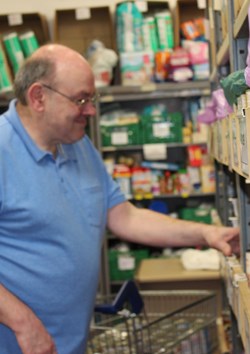 Stuart is supported by our Falkirk team and had been looking for a volunteering opportunity locally when his team leader had a chance meeting with the manager of the Falkirk Foodbank. This lead to an opportunity for him to become involved with their work.
The foodbank manager invited Stuart along to see what they do and find out more about being involved, and almost right away decided he would give it a try and hasn't looked back since.
Putting something back into his local community and helping others are really important motivators for Stuart, so the role the foodbank has in supporting local people who are struggling to make ends meet is something which Stuart has become very passionate about.
He has quickly become a much-valued team member; helping out with sorting foods and checking expiry dates so that they can be used in the food packages given to people who need them. Even when he's not there he is thinking about ways in which he can be of help to the foodbank and the people who use it. So back in December he got everyone at Key's Falkirk office to donate bags of food and a fantastic amount was delivered to the foodbank as a result.
Well done Stuart on all your hard work for, and passionate support of, your local foodbank.
Falkirk's foodbank is run by The Trussell Trust and you can find you more about the work they or volunteering with them at www.trusselltrust.org