Key's Gender Pay Gap report published today
04-Apr-2018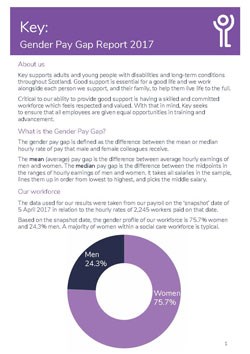 Today we have published our Gender Pay Gap report for 2017. This provides information on the gender balance of our workforce and also details any differences in pay between men and women. 
The report highlights that:
75.7% of our employees are women
24.3% of our employees are men
Our mean gender pay gap is 3.93%, which is significantly lower than the UK mean gap of 18.4% (Office of National Statistics Annual Survey of Hours and Earnings: 2017)
Our median gender pay gap is 0%
Our commitment to continually reviewing our workforce practices to ensure there are no hidden obstacles to women progressing their career within the organisation. 
You can read the full report here.